Remembering a man who defined his sport
By John Giannone, CNNSI.com
February 19, 2001
10:01 AM EST (1501 GMT)


DAYTONA BEACH, Fla. -- His nickname was positively perfect. Just as Earvin Johnson was Magic, Walter Payton was Sweetness and Muhammad Ali the Greatest, Dale Earnhardt was auto racing's Intimidator.

It wasn't just a name -- it was a 200-mile-an-hour way of life. Just this week it was written that Earnhardt would run over his mother, wife -- even his racing son -- to pass Richard Petty and become the all-time Winston Cup Point Series champion.

It was the way he lived. It was the way he died -- at full throttle, on the final turn of the final lap of a race won by a driver in a car Earnhardt owned. With his namesake son right behind.

But while his chisled face and omnipresent dark glasses fed that image, away from the steering wheel Earnhardt was different -- genteel, kindhearted, peacock-proud of his prodigy, the brash youngster who gladly accepted the specter of his father's footsteps.

No driver in NASCAR -- now or perhaps ever -- commanded Earnhardt's level of respect or passionate fanaticism. From the moment he descended on the Winston Cup circuit in 1979, Earnhardt was enormously popular. That will never change ... not even now.

The abject grief and makeshift shrines that dotted Daytona are a testament to that.

No one in this sport's history had an easier time speeding into Victory Lane at the birthplace of speed. Thousands of races have been run at Daytona in 42 years. Hundreds of brave men have braced themselves around its fabled high turns and inviting straightaways.

Several have tasted success at Daytona. Dale Earnhardt feasted on it -- 34 times, more than the next two most successful racers combined.

That is the Earnhardt legacy. That is why his death Sunday will leave such a lasting and profound impression. It will raise questions -- about the sport's safety, about fate ... questions with no real answers. Just this week, Earnhardt said the best is yet to come, that there is another championship to win. Sadly, there are no more races for Earnhardt. For his millions of fans -- already dressed in his familiar black color scheme -- the mourning begins.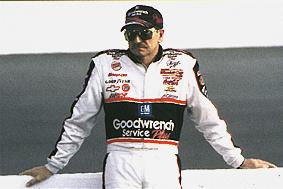 The Earnhardt accident: How it happened
By Marty Smith, Turner Sports Interactive
February 18, 2001
9:33 PM EST (0233 GMT)


DAYTONA BEACH, Fla. -- When it occurred, the accident that claimed Dale Earnhardt's life didn't look all that violent.

Earnhardt was battling Kenny Schrader, an old nemesis with visions of a return to glory, door-to-door down the backstretch and into Turn 3 on the final lap of Sunday's Daytona 500. Several cars, including those of Rusty Wallace and Sterling Marlin, were in tow.

Both Earnhardt and Schrader yearned to place their team in the top three behind race-winner Michael Waltrip and runner-up Dale Earnhardt Jr., and both refused to give an inch.

As they entered Turn 3, Wallace sneaked between Marlin and Schrader to Earnhardt's rear bumper. Marlin got a bit loose, and subsequently tapped Earnhardt in the right rear quarter panel, sending him up the track and into the Turn 4 wall at approximately a 45-degree angle.

Schrader, unable to maneuver around Earnhardt, plowed into the side of his Chevrolet.

The two slid down the track and into the infield grass. Schrader quickly jumped out. Earnhardt did not.

"I don't know for sure what happened," Schrader said. "We all spread out going down the back straightaway. I knew that was going to happen. I was just hoping we'd get someone to go with us.

"They spread out, so I just hung with the guys on the outside. I guess someone got into Dale because Dale got into me and then we went up (the track). We hit pretty hard, and Dale hit harder."

Hard enough to kill the man whom NASCAR Chairman of the Board Bill France called "the greatest driver ever."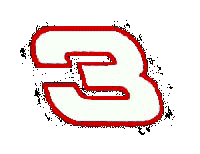 EARNHARDT, KNOWN AS The Intimidator for his aggressive driving, had to be cut out of his car after slamming into the wall at about 180 mph on the final turn of the race while fighting for position.
He was taken to the hospital accompanied by his son, Dale Jr., an up-and-coming driver who finished second in the race. The elder Earnhardts wife, Teresa, also was at the hospital.
This is understandably the toughest announcement Ive ever had to make. Weve lost Dale Earnhardt, NASCAR president Mike Helton said. Earnhardt died instantly of head injuries, said Steve Bohannon, a doctor at Halifax Medical Center who also works at the track. There was nothing that could have been done for him, he said.
Dale Earnhardt bio

AGE: 49, Born April 29, 1951

BIRTHPLACE: Kannapolis, N.C.

RESIDENCE: Mooresville, N.C.

DIED: Killed Sunday on the last turn of the last lap of the Daytona 500 in a crash involving cars driven by Sterling Marlin and Ken Schrader.

DRIVING CAREER: Known as The Intimidator for his aggressive driving style, Earnhardt won seven NASCAR Winston Cup titles to tie Richard Pettys record. Won 76 races, including the 1998 Daytona 500. Was the 1979 Rookie of the Year, and won the National Motorsport Press Associations Driver of the Year award four times and twice was selected the American Driver of the Year.

FAMILY: Wife, Teresa; four children, Dale Jr., Kerry, Kelly, Taylor. Earnhardts father, Ralph, was one of the pioneers of NASCAR and a star in its Sportsman division in the 1950s. Dale Jr. is a top Winston Cup driver.
The death comes at a time that driver safety issues are under increased scrutiny. Three NASCAR drivers were killed in wrecks last season.
The accident happened a half-mile from the finish of the NASCAR season-opener. Earnhardt was third, slightly ahead of Sterling Marlins Dodge on the bottom of the high-banked fourth turn. As they fought for position, Earnhardts car grazed Marlins and turned sideways.
Earnhardts car went up the banking and crashed into the wall at about 180 mph before being hit by Ken Schraders car. Both cars slowly began to slide down to the bottom of the track as the rest of the field raced by.
Earnhardts death was the biggest blow to auto racing since three-time Formula One champion Ayrton Senna was killed in the San Marino Grand Prix in Imola, Italy, in 1994.
Neil Bonnett, one of Earnhardts best friends, was killed that same year in practice for the Daytona 500. Rodney Orr died in a wreck three days later, also in practice, and was the last driver killed at the track until Earnhardts crash.

Safety workers cover Dale Earnhardt's (3) Chevrolet after crashing with Ken Schrader (36) during the Daytona 500 on Sunday.

NASCAR has lost its greatest driver ever, and I personally have lost a great friend, NASCAR chairman Bill France Jr. said.
It was the second major wreck in five years in the race for Earnhardt. He flipped wildly on the backstretch near the end of the race in 1997 but was not seriously hurt. He came back to win the race the next year on his 20th try.
Earnhardt was the leader among active Winston Cup drivers with 76 career victories. He also had the most wins (34) at Daytona International Speedway, which lowered its huge American flag in the infield to half-staff after the race.
President Bush called Dale Earnhardts wife Sunday from his ranch in Crawford, Texas, to express his condolences. Bush said his prayers are with the Earnhardts and the NASCAR community. The President said he considered Earnhardt a friend.
The death made Waltrips victory virtually meaningless, as drivers mourned one of their greatest stars.
Michael Waltrip lowers his head while in victory lane after winning the Daytona 500 race Sunday. Waltrip said that he was experiencing mixed emotions after winning the race and learning that his buddy, Dale Earnhardt had been injured on the final lap of the race in a crash.
My heart is hurting right now, Waltrip said before news of Earnhardts death was announced. I would rather be any place right this moment than here. Its so painful.
Earnhardt was doing what he does best throughout the race, being the crowd favorite and bumping other cars for position.
He was a factor throughout, and spent the final laps close to his son and Waltrip, trying to block Marlin. Marlin had just passed Earnhardt, who was trying to get back by him on the low side of the track when there was slight contact that sent his Chevrolet spinning up the banking.
It turned to the right and hit the wall, and Schrader could not avoid hitting Earnhardts car. Both cars slowly began to slide down to the bottom of the track as the rest of the field raced by.
Earnhardt Jr. quickly left the postrace celebration for Waltrip, and sprinted to the infield care center to be with his father. It took several minutes to get the elder Earnhardt out of the car, and he was quickly taken to Halifax Hospital.
Meanwhile, the crowd at Victory Circle was chanting DEI, DEI, for Dale Earnhardt Inc., which owns the cars of his son and Waltrip. The celebration, which usually lasts 30 minutes, ended quickly.
Last year, Busch Series driver Adam Petty, the grandson of stock car great Richard Petty, and Winston Cup driver Kenny Irwin were killed two months apart on the same turn at New Hampshire International Speedway. Truck series driver Tony Roper was killed in a wreck at Texas Motor Speedway in October.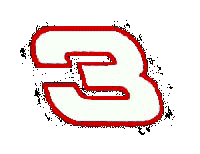 Gone but not forgotten,
And never shall he be.
Always in our hearts,
Forever number 3.

Striking fear into his rivals,
Passing high and low.
Living out his dream,
His fans loving the show.

Respected by all who knew him,
Admired by everyone else.
A husband, father, grand-dad
Always giving of himself.

Although he will never race,
On God's green earth again.
His presence will always be with us
To overshadow our pain.

The 18th of February,
I'll never forget that day.
When the Lord reached down
With His Mighty Hand
and took our hero away.

Greg B.
Feb.19,2001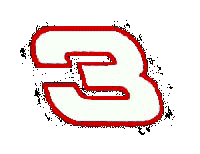 Want to see the #3 retired? Click on the big #3 above!!







COMMENTARY
By Lee Spencer
THE SPORTING NEWS


DAYTONA BEACH, Fla., Feb. 18 As I walked past the drivers window of the No. 3 Chevrolet on Sunday, Dale Earnhardt waved, winked and flashed that unforgettable, mischievous mustached smile.
STRAPPED TIGHTLY INTO the legendary Goodwrench Chevy, and wearing the open-faced helmet he preferred for comforts sake, Earnhardt was relaxed and affable as he sat on the starting grid for his 23rd Daytona 500.
Never for a moment did I think that would be my last glimpse of his familiar face.
The driver who won more races than any other at Daytona, the driver who amassed seven Winston Cup titles and 76 wins over a 25-year career, the driver who was husband to Teresa and father to Kerry, Kelly, Dale Jr. and Taylor Nicole would not make it to the finish line that Sunday.
On the final lap, the man who understood the draft better than anyone else, backed off the lead pack behind Michael Waltrip and Dale Jr. to block the oncoming assault from Sterling Marlin, Ken Schrader and Rusty Wallace. He knew that taking his opponents three-wide would open the door for Waltrip and Junior to battle for the victory.
This wasnt the Dale Earnhardt who said many times that on the track his son was just another competitor. This wasnt the Dale Earnhardt who said he would probably bump Juniors No. 8 out of the way if the black No. 3 had a chance to win.
This was the ultimate act of selflessness from a driver who began the 2001 season with the deep-seeded belief he would win his eighth Winston Cup championship.
And that act of selflessness might have cost him his life.
Marlin, with an excellent chance to break a 149-race winless streak if he could only pass Earnhardt, was impatient. He gave Earnhardt a nudge as the cars roared into Turn 4 the kind of play Earnhardt himself might have made and the No. 3 careened out of control and hit the concrete retaining wall with a brutal impact.
On the radio, silence.
Richard Childress, Earnhardts team owner since 1984 and friend even before that, got no response to his anxious radio call to his drivers headset. Childress sent teammate Mike Skinner to the scene of the wreck still nothing. He radioed to Teresa . . . to crew chief Kevin Hamlin . . . someone, anyone, to get an answer, but nothing came.
In Victory Lane, Earnhardts newest driver, Michael Waltrip, was celebrating his first Winston Cup win in 463 starts. The emotion between the Waltrip brothers (Darrell was calling the race from the television booth) was the highlight of the Fox broadcast.
Little did anyone know that NASCARs foremost driver sat lifeless as paramedics struggled to cut him from his wrecked car, which had come to rest on the grass in the tri-oval portion of the track.
Earnhardt did not respond to efforts to revive him and was pronounced dead at 5:14 p.m. ET at nearby Halifax Medical Center, where he was taken by ambulance.
NASCAR has lost its greatest driver ever, and I have lost a dear friend, said NASCAR chairman Bill France Jr.
As a young man, France saw Earnhardts potential. In a recent interview, France talked from his heart about the true contribution Earnhardt had made to the sport his family founded, but even more about the respect he had for Earnhardt as a man.
And next to his father, Ralph, who died unexpectedly in 1973 before he ever got to see his son race in Winston Cup, it was France whom Earnhardt admired most.
He helped me grow, Earnhardt said last month. He helped me understand the sport better. Bill has always been a great leader and a great philosopher. The interesting thing about Bill is that he doesnt forget anything about people. He remembers a persons name, who they are, what they do and what they said, for that matter . . . in 1940. Hes been there. Hes seen it. Hes been up against these situations and he knows what to expect and how to handle it.
Although it was Earnhardt himself who laid the groundwork for a formidable motor sports dynasty, it was Billys guidance that took the scruffy factory worker from Kannapolis, N.C., and turned him into a legend.
His wife, Teresa, who knew him best, said that part of the success was selling Earnhardt the image The Intimidator, who was feared on and off the track. Yet if Earnhardt respected someone and gained their trust, one couldnt ask for a truer friend.
Earnhardt was also a NASCAR loyalist. Despite the safety issues, despite the uneven distribution of TV money and despite any inequities among the manufacturers, Earnhardt refused to tarnish the name of the family or the sport that made him.
In fact, ironically enough, he predicted before the race that this would be a Daytona 500 to remember.
Little did he know it would be his last.
In an interview last month with Benny Parsons, Parsons spoke of how much Earnhardt had evolved and matured since joining the Winston Cup ranks as a rookie in 1979.
Earnhardt has really amazed me over the years, Parsons said. When he first came on the scene, I said he cant pull off representing a big company. And boy, was I wrong there. Then I said he cant be consistent enough to win a championship hes too much of a hard charger, he runs too hard to win championships. And once again, I was wrong.
He has been really truly amazing with how he has grown as far as his ability to speak and get up in front of people and be very candid. Hes also been amazing on the racetrack.
I didnt realize this when Earnhardt first started, but after watching him for the last 20 years, his ability on the superspeedways with the draft is simply incredible. He may not have won the Daytona 500 until a few years ago, but he won everything else there was there. To me, his ability on those racetracks have been nothing short of miraculous.
Dale Earnhardt doesnt have to win that eighth championship to be considered one of the best racecar drivers of all time, Parson added. Yes, I was surprised at his success last year. As far as this year, I wont count anything out because he has continued to impress me over the last 21 years by doing things so I shouldnt be impressed any more. I think Earnhardt has more fans than any one driver. I wouldnt dare say he has more than all the other drivers combined, but if you interviewed every fan that came through the gates for the Daytona 500 and they gave you an honest answer, I think Earnhardt would total up more than anyone else. Anytime you have somebody that popular like Richard Petty or David Pearson then yes, they have a dramatic impact on the sport.
Childress and Earnhardt were just two simple racers from North Carolina. Off the track, they were friends. The two hunted and fish and enjoyed the life they had earned together. Childress often said that their relationship was based on the tremendous respect they had for each other.
It doesnt matter what it is, he doesnt like to lose, Childress said. He just has a competitive nature. When you get down to the last 50 laps of a race, he knows how to dig deeper than any driver I know to make things happen.
Dales as focused on that race car right now as he was 10 years ago. He wants to win races and he wants that eighth championship. He knows if we keep trying and working as hard as we did last year, and he keeps his focus, that it will happen.
This would have been the year for an eighth win, but none of that matters now.
Earnhardt had a work ethic second to none. He didnt give handouts to his first three children, choosing to share that same lesson with them. His sons, Kerry and Junior, had to work at Earnhardts Chevrolet dealership and on their own cars before earning the right to race just like Dad. Earnhardts oldest daughter, Kelly, raced as well, but is currently a successful businesswoman with Action Performance, a racing collectibles business.
When Earnhardt spoke of Kellys newborn daughter, a softness would come over his face that was unmatched.
But Earnhardt had a final chance to be the father he didnt have time to be to his other children with 12-year-old Taylor Nicole.
It wasnt unusual if Earnhardt was in town to see him pick Taylor up from school or take her hunting for deer on the familys 300-acre farm in Mooresville, N.C.
When I interviewed Earnhardt last month, he could hardly contain his excitement of finding a vintage 1988 Corvette for Taylor the year she was born. He spoke of the low miles on the car and how it took him a year to find just the right one. Ironically, like her older brother Junior, she had had a dream, a dream that Daddy had bought her a car.
The next day when she got home from school, she and dad took a spin around the farm in her new Corvette. Earnhardt pointed to the car and bragged about how Taylor was already becoming a great little driver, how she parked the car perfectly on the showroom floor.
Then he said how proud he was of all his children and how far they had come. He described the struggles of building DEI, Dale Earnhardt Inc., but said it was worth it to ensure his childrens future.
In the grand scheme of things, its unique to have all this, but I feel that Dale Earnhardt Jr. one day will be able to step in and run all this and hopefully Kelly and Kerry and Taylor will all be involved too, Earnhardt said. Theyll all run this and race out of here and then do great. Hopefully after I retire from driving, Ill be a great car owner for several years, then I can turn this over to the kids and let them run it and race on.
Ned Jarrett, a winner of 50 races over his 13-year career in Winston Cup racing, says Earnhardt was a champ.
In my opinion, and Ive said this many times, he was the best race-car driver that ever raced, Jarrett said. He had a tremendous amount of God-given talent, and he worked hard to get the most out of it.
Everybody respected the man for what he could do with a race car.
Jarrett says NASCAR doesnt need to delay or cancel the next race, which is at Rockingham, out of respect for Earnhardt.
The world doesnt stop because we lose somebody, he said. He wouldnt want it that way. He wouldve wanted his son to be out there racing. I guarantee you, thats what he would have wanted.
Jarrett has seen a lot of lives lost in his days following the sport. Earnhardts death is the fourth in NASCAR series racing in the last 13 months.
Its just so hard to accept theyre not there anymore, Jarrett said. When you lose someone who accomplished so much to get the sport where it is today, its tough. The man was dedicated to what he did. Every time he strapped himself into the race car, he went as hard as he could.
Fans in the infield at the Daytona 500 were in disbelief.
Its awful, said Kimberly Bennett, an Earnhardt fan who, with her dad, Neil, was wheeling away two souvenir tires from Earnhardt Jr.s pit. It makes your heart hurt, just thinking about it.
Its put a shadow over this whole speedway, Neil Bennett, 41, said. Its just bad that he couldnt see his cars finish 1-2-3. Its a tremendous loss to motor sports.
Kimberly Bennett drives Legends series cars in her native Stockton, Ga., and had recently painted her No. 21 car to look exactly the same as Earnhardts No. 3, down to the black, white and red paint job.
I liked the way he talked when he came out of the car, said Kimberly, 15. He always had something nice to say. And he was real competitive.
Jarrett says NASCAR doesnt need to re-evaluate its safety policy.
NASCAR does a good job of doing what it can to make those race cars as safe as possible, he said. I guess you can only do so much. Certainly weve seen race cars torn up worse than his was and watched (the drivers) walk away. What safety measures could have prevented his death? I have no idea.
Earnhardt had reached a stage in his life where he was content. He couldnt fight middle age, so he just accepted it and approached it with a grace that comes from a confidence that few ever obtain.
Life changes as you go through it, Earnhardt said last month. Sure you have to focus on different things at different times in your career. Im 49 years old and Im pretty comfortable in my life. Things dont really rattle me when someone comes up and says youre getting audited by the tax collector or youre losing a key member of the team or your sponsor is unhappy. What I do rather than get rattled is to analyze the situation, try to correct it or straighten the program out and go forward. A lot of things rattled me earlier in life, but as you get older you get more experience. You try to take things in stride and have a good time.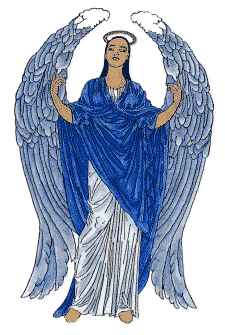 If you would like to view "this fans" look at the career of NASCARS finest ever driver and competitor, the one and only, INTIMIDATOR, then click the link below